When I think about spring, I envision bright colors and fragrant smells. I love the sound of birds chirping, the smell of orange blossoms, and the warmth of the sun on my skin. This shoot was inspired by all things spring!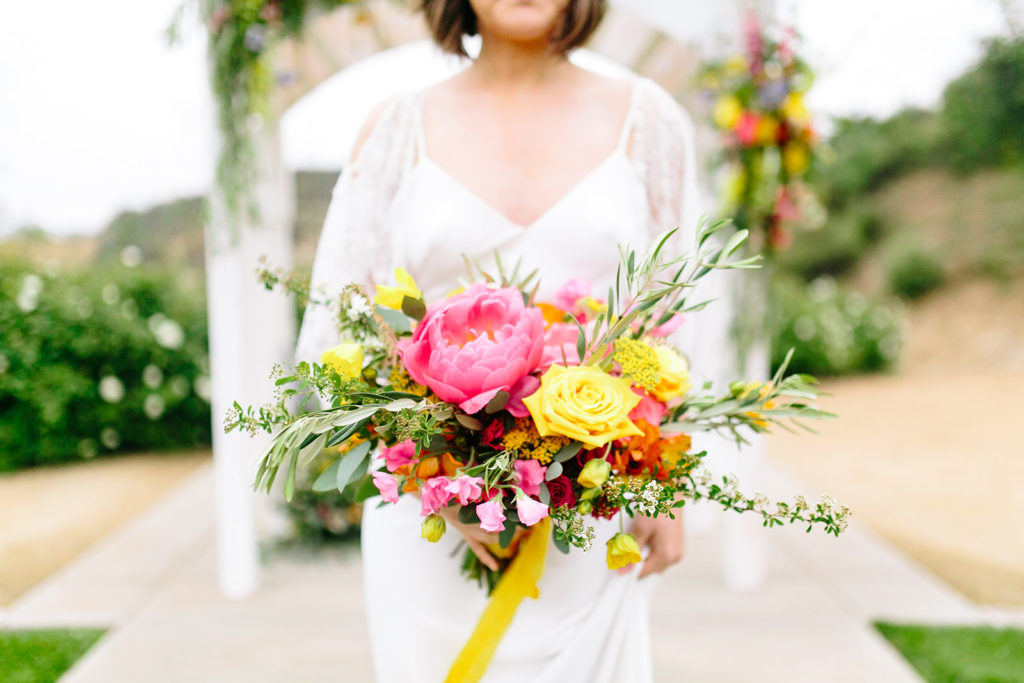 We brought in some of the most talented vendors in the IE to put on this bright and beautiful styled shoot. We wanted to showcase the emotions that adding bright colors can bring – joy, happiness, warmth. This shoot can best be described as a little bit rustic, a little bit vintage, and a whole lot of color!
A simply frosted cake can be dressed up with loose blooms and greens, and turn into a show stopping piece!
Our honey colored farmhouse dinner table was dressed with a chiffon runner, a beautiful, bright centerpiece, and vintage rental pieces. There's nothing that I love more that layers and textures on a table top, especially when they bring so much character. Colored glass is also one of my favorite obsessions! Who doesn't love drinking out of a fancy cup?!
These reveal doors from the rental company were a key piece in this shoot. Reveal doors are a great way to make a grand entrance on your wedding day, especially if you're not planning on doing a first look! Planning on a first look? Use them for a ceremony backdrop instead! We used the coordinating arch for this shoot, and loved how it turned out.
When planning a styled shoot, we always look at the elements that you'll have involved on your actual wedding day. The dress, the suit, the vendors – the whole nine! This shoot couldn't have happened without the collaboration of the following:
Photography: Janey Pakpahan Photography
Florist: I Dew Flowers
Rentals: The Vintage Establishment
Table Top: Clover & Thistle
Cake: Sweet Pea & Me Cakery
Catering: Easy Street Catering Co.
Photobooth: VW Photo Bus
Hair & Makeup: Izzie Ricther @ Level 10 Salon
Dress & Accessories: Beloved Couture Bridal
Model: Molly Juwon
Venue: Windmill Canyon